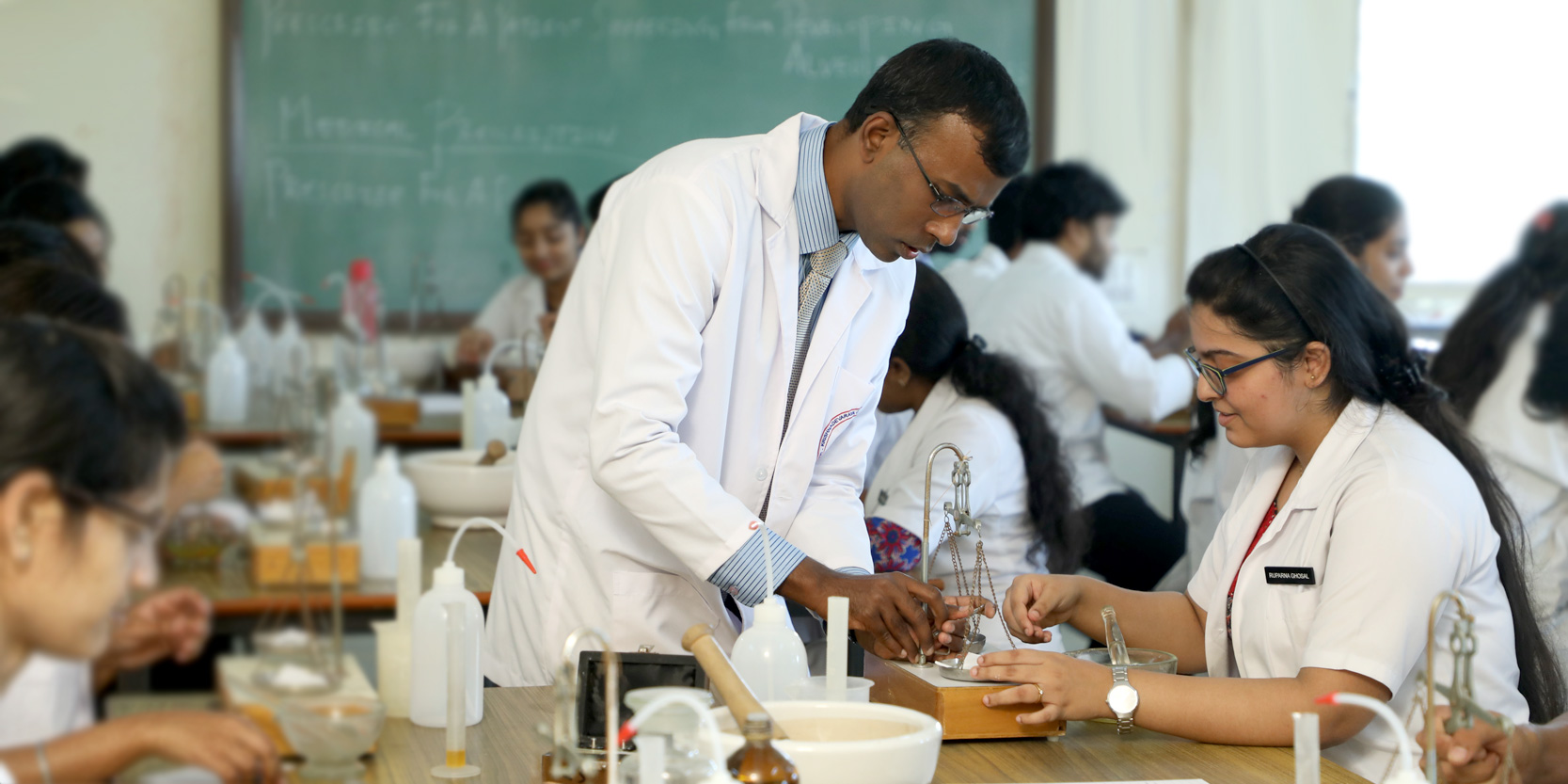 The department of Pharmacology is spacious to accommodate all II BDS & I MDS students & located on the second floor of the main building housing other medical departments.
Vision
To impart quality education in Pharmacology to undergraduate II BDS & post graduate I MDS students by means of didactic, practical/laboratory based, weekly tests, assignments & problem based learning strategies which enables students to select a drug rationally & also prepares them to handle any medical emergencies in a dental clinic setting. Assisting in Research projects, Thesis of MDS Students.
Mission
To become a highly competent department assisting students and other departments but also undertakes research activities independently. To consistently upgrade our department academically & technically employing the latest techniques & technologies in order to keep abreast with newer developments in pharmacology, intended to assist students to be updated constantly & achieve the highest standards in education.
Head of the Department of Pharmacology – Message
Dr. Revanna Swamy Asso.Professor (MD Pharmacology)
I Dr. Revanna Swamy, HOD Department of Clinical Pharmacology extend a warm greeting to all who view this page.
The department of Clinical Pharmacology has been fully operational since the first batch in 1993 with the arrival of II BDS Students & also teaching basic science classes to I MDS students since the year 2005.The department has three staff comprising of Associate Professor & HOD, Assistant Professor & Tutor; where-in the workload being assigned for teaching II BDS & I MDS students shared respectively.
The syllabus & course work adhered to is as prescribed & designed by the Dental Council of India and in accordance & affiliation to Rajiv Gandhi University of Health Sciences, Karnataka.
The course work is carried out by the students of both II BDS & I MDS over a period of the academic year, as prescribed by Rajiv Gandhi University of Health Sciences, Karnataka & comprises of attending didactic & practical classes; apart from regular class tests & Internal Assessments as designed & in concurrence with Department of Pharmacology and Krishnadevaraya College of Dental Sciences. The practical aspect of pharmacology or pharmacy is also strictly adhered to as per the syllabus. The department comprises of a large & fully developed laboratory with required equipments for conducting experiments in case of II BDS Students & for research activities of MDS students. Every student independently undertakes experiments involving preparation & dispensing of medicines as per the NFI - National Formulary of India & IP - Indian Pharmacopoeia.
Our department strives to train students in theory & practical aspects of pharmacology to help them achieve the goal of independently & rationally selecting the right medicine to treat patients & also to overcome any medical emergencies based on their knowledge & training coming in to play when they enter the clinical postings of III BDS & also assisting the MDS students hone their skills to design & carry out quality research work fit for publication & most importantly contributing towards development & progress of science.
---
Our Staff
| Name | Qualification | Designation |
| --- | --- | --- |
| Dr. Revanna Swamy | (MD Pharmacology) | Asso.Professor |
| Dr. Vikram S Nayak | BDS, MS | Reader |